FREQUENTLY ASKED QUESTIONS
Is this your first visit? Welcome!
We're here to help if you have questions and most of our most common ones are answered below. If your question is not answered here, please call the Box Office on 9467 7118. If the Box Office is unattended or busy, please leave a detailed message. We will return your call as soon as we can.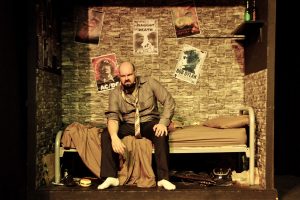 No food except bottled water or hot drinks with a lid are allowed in the theatre at any time.
Yes, our kiosk offers selected drinks and snacks.

Two self-serve coffee machines are also available. If you do not have exact change, you can purchase a token at the kiosk.
Koorliny Arts Centre Kwinana obtains an Occasional Liquor License for selected shows.
Yes. Ample free parking is available within the centre grounds, and there is additional parking immediately adjacent in the City of Kwinana parking lot.

Three disabled bays are situated next to the walkway leading to the main entrance.
Yes. Koorliny Arts Centre Kwinana is easily accessible for patrons with special requirements.
Three disabled parking bays are situated next to a ramp and walkway leading to the main entrance, which has automatic doors. A ramp leads towards the foyer and theatre areas. The outside rooms and amphitheatre are accessible through an automatic door near the Box Office.
Koorliny Arts Centre has a number of dedicated wheelchair seating options. Please discuss your requirements with Box Office staff.
There are two toilets with wheelchair access near the main theatre entrance.